Important dates
September 1, 2023: Submission deadline
October 15, 2023: Acceptance Notification
October 20, 2023: Final paper submission
November 14 - 17, 2023: iGISc 2023


Costs
Before August 10
$1,000.00 Researchers/Assistants and $700.00 Students (Attendance Certificate)
$3,500.00 Researchers/Assistants and $3,200.00 Students (Certificate + Publication)
After August 10
$1,300.00 Researchers/Assistants and $1,000.00 Students (Attendance Certificate)
$3,800.00 Researchers/Assistants and $3,500.00 Students (Certificate + Publication)


* Conference fees are in mexican pesos.
All accepted full papers will be published in Springer's Lecture Notes in Geoinformation and Cartography (LNG&C) series and indexed by Scopus, Thomson Reuters Conference Proceedings Citation Index (included in ISI Web of Science), and several other indexing services
The papers will contain linked references, XML versions and citable DOI numbers.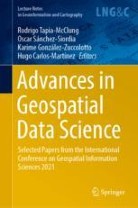 * Springer is able to manage author's ORCID ID and Proceedings Volumes Editors.
Please add authors' ORCID ID in your submitted paper!